These beautiful jewels just made my day a little brighter!
Jean and Oliver Pelle of studio Pelle created these architectural soaps. They are hand hewn from semi-transparent glycerin and available in an assortment of colours. As trained Architects from Yale their passion for architecture and design is apparent in their latest creation found on Fab.
(images via)
Happy Friday everyone!!!
Somebody please tell mother nature it is officially Spring. I'm getting really tired of these frigid temps and random snow falls.  Until the weather turns for the better I guess I'm forced to dream. Here are some beautiful cottages that have been keeping me inspired. 
A few months back I fell in love with a pair of slim-line brass candles sticks I saw at a home decor store. They were retailing at over $200.00 dollars and I couldn't justify the cost given I didn't  have an ideal spot for them in our house. (insert sad face here)
About 3 weeks later I was walking to the bank and spotted virtually the same solid brass candle sticks for the low low price of $15.00 for all 5. They needed some TLC but I got them looking new again in about 15 minutes. (That's the beauty with brass, silver and and other metals that tarnish – they do clean-up!)
I'm really happy with the way they turned out, now I just need to find slim white candles to complete the look.
(Before with a little bit of Silvo polish on the base)
(This is what I used to clean remove the tarnish, worked like a gem.)
(See the difference? This is with one aggressive polish session.)
Inspiration is everywhere!  Sometimes the best inspiration comes from the most unlikely source.

1. Hand crafted tiles in soft colours and stunning patterns. (Image via: pintrest)
2. Fresh spring tulips.
3. Ocean waves and Navajo prints. (image via pintrest)
4. Gold chevron pattern, mint green ribbon and blush tone floral decor… aka the perfect cake. (Image via: pintrest)
5. Antiqued gold hammered sink and faucet.
Where do you find your inspiration?

There is nothing better (in my opinion) than fresh flowers. I love the colour, texture and smell they bring to the home. My problem is always coming to a timely decision when I'm in the shop.  As I've told my DH (when he's sitting in the car for way….. longer then promised) there are a lot of things to consider…. the vase, the colours,  the volumes/heights and finally the actual flower type (dependent on season).
Given the option seem so endless I thought I would challenge myself to a different arrangement every other Friday. That way when I really needed to make a speedy selection I'll have a catalog of arrangements I know will look good.
These flowers sat at my desk and made me very happy for almost 13 days!  What I used: Pink freesias, cream mums, evergreen filler, and some other small pink flower filler, in a homemade lace pattern mason jar vase.
The above image:(via delo loves design)
So this month my family is headed south (Florida) to get a jump start on the warm weather.  Unfortunately I'll be waiting out spring in Toronto and only just hearing about the ocean views, sunset walks, mixed drinks by the pool and all those other amazing things people do by the ocean in warm weather.
In the spirit of palm trees and sunsets this post is about the flamingo. Some find this bird tacky but for me it captures the true essence of a vacation down south. I'm particularly loving this wall mural by Anthropologie (Below)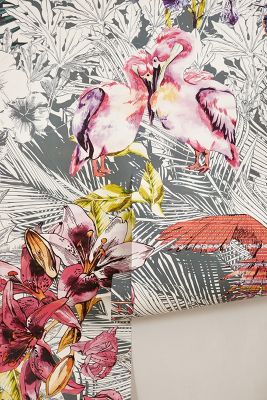 (Below) This vignette really captured my eye. Everything from the painting, to the wall paper and  paneling, the textured pink flowers in the crystal vases, the glass and silver flamingos and lucite table all make the perfect combination for a vintage glam look.
Obviously I had to throw a little water colour into the mix. (below) I just love this stunning sketch from a talented artist and blogger who documents her life as she lives it.
(below) and of course a more contemporary wall covering in muted tones also works for the conservative type.
Happy Saturday!
Resolution update:
I'm happy to report I've been sticking with my lengthily New Years resolutions. My main focus these last few weeks has been refreshing  my office space. Last week I  ordered three beautiful photographs from a talented photographer which I hope to have framed by the end of the week. (I'll be sure to post the end result) 
This week I'm on the hunt for the perfect area rug. I'm looking for a rug with a bold clean pattern, a low pile height (so my task chair can glide back and forth easily) and something that suites the aesthetic of the room (black and white/high contrast). Here is what I'm  considering right now, this beauty fits all my requirements I just want to see it in person before I make the call.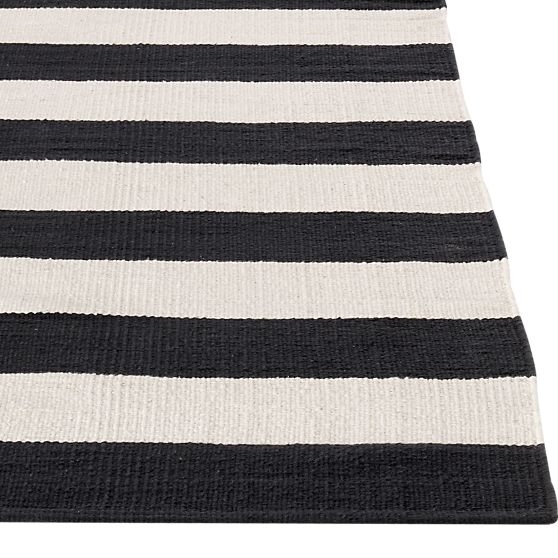 Lately all I think about (or daydream about) is sitting on our patio with a glass of wine. I'm craving spring and if the weather doesn't make a turn for the better in the next few weeks I'm headed south of the boarder for some R&R.
These next images are beautiful examples of  making the most of your backyard or patio space. It should be an extension of your living space,  complete with modern conveniences (like bbq, drink cooler, mood lighting and recliners), comfort and of course lots of style.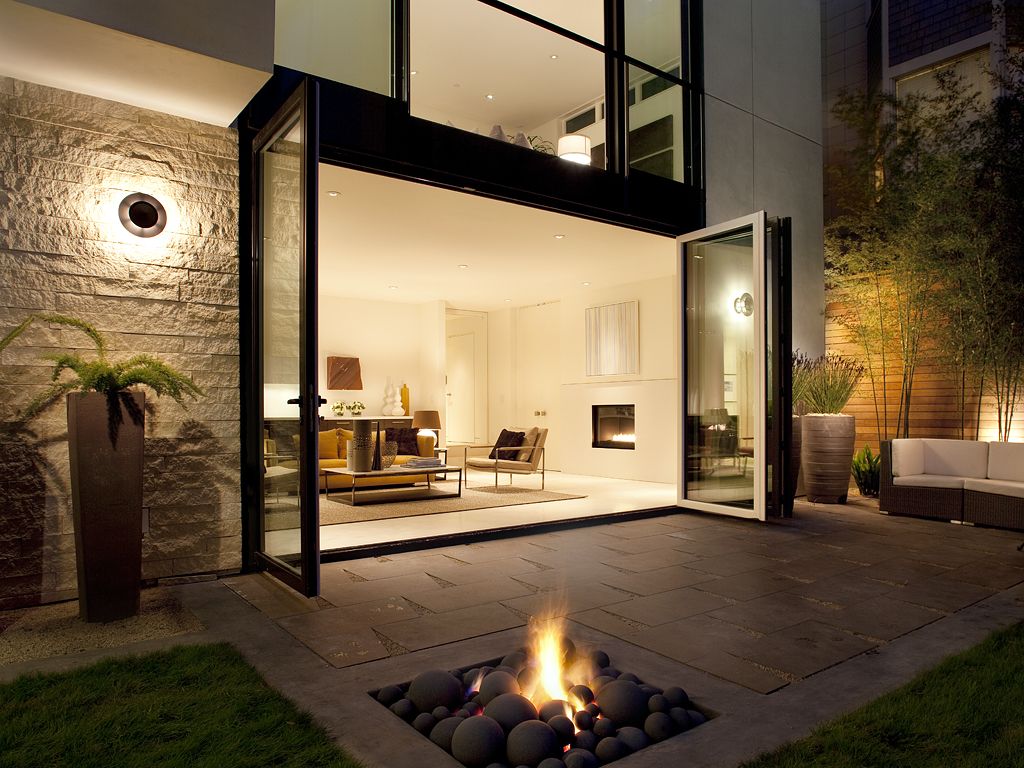 Above ~I love how these doors completely opens up to the backyard. This is perfect for entertaining or enjoying a warm summer night. You can always get phantom screens to prevent bugs from finding there way inside.
(Image via: www.home-designing.com)
Pool, followed by a hot tub, followed by an outdoor fire place… perfect!
(Image via: www.apartmenttheropy.com)
No this is not a spa or yoga retreat… this is someone's house. Hats off to the Architect and Landscape designer!
(Image via: pramfashionjewelry.blogspot.com)
This space seems casual, comfortable and very livable. The bubbly is a nice touch too!
(Image via: sfmag.webs.com)
(Image via: http://laveet.com)
Sometimes the most beautiful spaces are the ones that  just happen… or at least appear as though they did.  That's what I love about these spaces, they speak to that effortless eclectic design aesthetic .
(Image via indepedant.co.ukuk.com)
(Image via: lifestylenoted.com)
(Image via: hgtv.com)
(image via: www.trenddecoration.com)

Happy Friday everyone! As I write this post it is haling outside, blowing like crazy and frigid! I can't even begin to describe how done I am with winter. All I can think about these days is Spring and it is becoming clear to me we still have a ways to go before I get my wish. Ehh….
But that's enough complaining for one day! Below are some beautiful bright white kitchens that showcase sleek modern design. I'm loving the full height, high gloss, white cabinets, the large islands, the dark textural floors, stainless steel appliances and the unique stools that add a touch of interest. 
 Enjoy the weekend!
(Below images from Elle Decor and House beautiful)